No one can put their life on the line to protect you than a German shepherd dog.  Not a police, not even your relative.  The GSD's (German Shepherd Dog)  loyalty is unquestionable.
So if you want to add a new member to your family who will be your everyday companion, have a German shepherd puppy. The German shepherd consistently ranks at the top of the most popular dog breeds in America, and you can easily see why. Intelligent, high energy, loyal, and excels in a myriad of tasks such as police and military services, guide and assistance work, drug detection, and search and rescue to name a few. A german shepherd does not disappoint.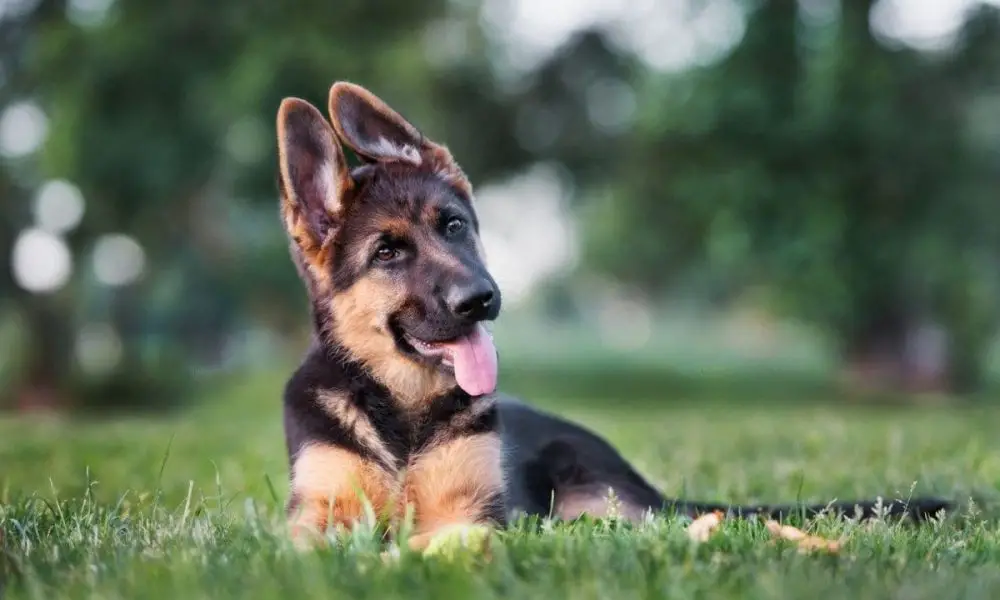 While doing all that incredible work,  a German shepherd only needs one thing from you.  And that is care. But not everyone can handle a GSD.
This article will inform you whether you are ready for a German Shepherd or not because the last thing we want is you to end up abandoning it. We don't want that to happen.
Here is what it takes to care for and raise a great German shepherd puppy.
The first step of pet care begins right at the time of adoption.  Get your little German Shepherd puppy checked by a veterinarian before it leaves the home of its breeder. This first step is paramount.
Feed him a nutritious diet.  it is important to feed your German shepherd a nutritious meal appropriate to his specific age.  feeding puppy food at a young age,  adult food at middle age,  and senior food at old age.  There is plenty of food in the market at each stage of your dog's growth.  you can look for brands such as diamond naturals blue buffalo or taste of the wild.
 A lot of exercise.  German Shepherds are not sedentary animals which are great news for active people.  If you have a sedentary lifestyle, just get yourself another dog that does not require much work.  German shepherds are a lot of work;  they want to run chase scenes and play.  they are not house dogs.  So be sure to exercise him at least one to two hours daily.  Read more on how to exercise German shepherds here
This is important;  only get a German shepherd if you have time and money to provide what they need, otherwise you will be overwhelmed and abandon him. As said earlier, we don't want this to happen.
Socialize him.  Due to their protective instinct, German shepherds tend to have aggression towards other pets or humans who are not part of your family.  To avoid this, have him used to people and other pets. Otherwise, you will always be in trouble.  There's a reason these guys are always on duty with the police or the military. Walk him around so he can meet and get used to other unfamiliar people and dogs. This is something you do at an early age as it becomes harder to train them at an adult age.
Attentive healthcare. This goes without saying; all dogs need the best healthcare and GSDs are no exception. With good health, GSDs tend to have a longer life than any dog. They live up to 10 to 13 years on average. The German Shepherd Dog Club of America, the official breed club, recommends you test for elbow dysplasia, hip dysplasia, and degenerative myelopathy, a neurological disease similar to multiple sclerosis in humans.
Some drawbacks to consider.
German Shepherds are shedders: GSDs shed a lot of hair. Expect those to stick around your clothes, carpets, and everywhere. You will need clean and vacuum your home at least twice a week. So get a GSD if you have a lot of time to tend your home
German shepherds do not like to be left alone for a long time. This breed may be courageous and strong but they do not do well in solitary. When left alone for a long time, they develop destructive behavior such as digging, excessive barking, and chewing. So if you need to go to work, make sure you leave your GSD with someone.
German shepherds need to be kept busy. As mentioned earlier, GSDs are not for anyone who simply needs a dog. You must dedicate time and effort to train them for a specific job. This is clearly not everyone can handle.
On a final thought, while a German Shepherd is an absolutely great dog in all measures, it is however not a dog everyone can handle. With the above information, you already know whether this breed is for you or not.